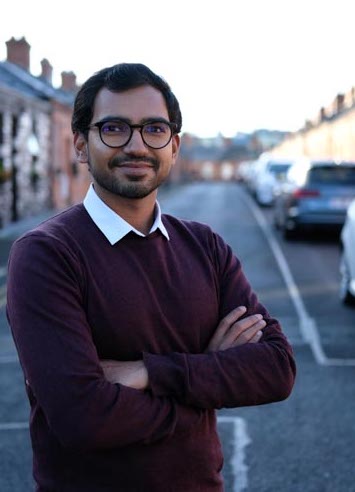 I am Gaurav!
I am a Digital marketing freelancer based in Dublin, Ireland.
I specialise in Marketing Analytics, Social Media advertising, Pay Per Click Optimisation, but I'm usually up for anything related to digital marketing be it website designing, UX research and content analytics.
Early on in my career, I have worked with multiple global tech companies in Marketing and Data Analytics.
I currently lead the Data Analytics Team at Facebook as full time but also help small and medium business build and grow their online presence.
You can find out more about me and my experience on LinkedIn and my resume.
LinkedIn
My Resume
Services
Digital Analytics and Insights
Wondering how to bring your business to the digital landscape? How to build your digital presence and use it to your advantage, reach out to me! I help business realise their digital potential by helping them with crunching the numbers.
Build/Integrate analytics capabilities into your website.
With a certification in Google Analytics, Google Adwords and Google Tag Manager, I can help integrate key analytics tools into your website to get data and insights about your customers flowing to you.
Analyse your audience
Already have the tools to analyse your audience? I can help you get started with asking the right questions and using data to find these answers.
Generate Insights and Recommendations
I have spent almost 7 years wrangling data to generate insights behind the numbers. I can help you build reporting solutions that show market trends and your audiences pattern.
Search Engine Optimisation
Did you know that you can significantly reduce your advertising budget by just doing small changes in your website with no advertising dollars spend? I can help you carry a thorough SEO analysis for your website including the health and customer sentiments for each page.
Establishing your SEO growth strategy
Don't just buy traffic, build content and use free strategies to get your business to people rather than driving them to you. I can help you build your execution strategu to drive traffic on your website without marketing spend.
Defining your SEO goals
Once established, I can help breakdown your strategy into tangible goals. It is important to identify and set realistic SEO goals for your business. Eg: Do you want more conversions or more acquisitions on your website?
Keywords Research and Market analysis
I can help you choose the right keywords and text needed for search engines to prefer your website over your competitors. I leverage on tools such as Google Keywords Planner and Search Console to find the right keywords for your business.
Website Optimisation
I can help you increase your website's visibility by optimising your pages and associated content, just the way search engines algorithms like.